Active monasteries of Meteora
Nowadays there are only 4 Monasteries and 2 Nunneries. 
Monasteries:

Of The Transfiguration of our Saviour
the Holy Trinity
The Agios Nikolaos Anapafsas( the one who Rests)
The Varlaam 
Nunneries:

Agios Stefanos (Saint Stephen)
The Roussanou
Nunnery Huge numbers of visitors from all over the world flock the place daily for meditation and prayer.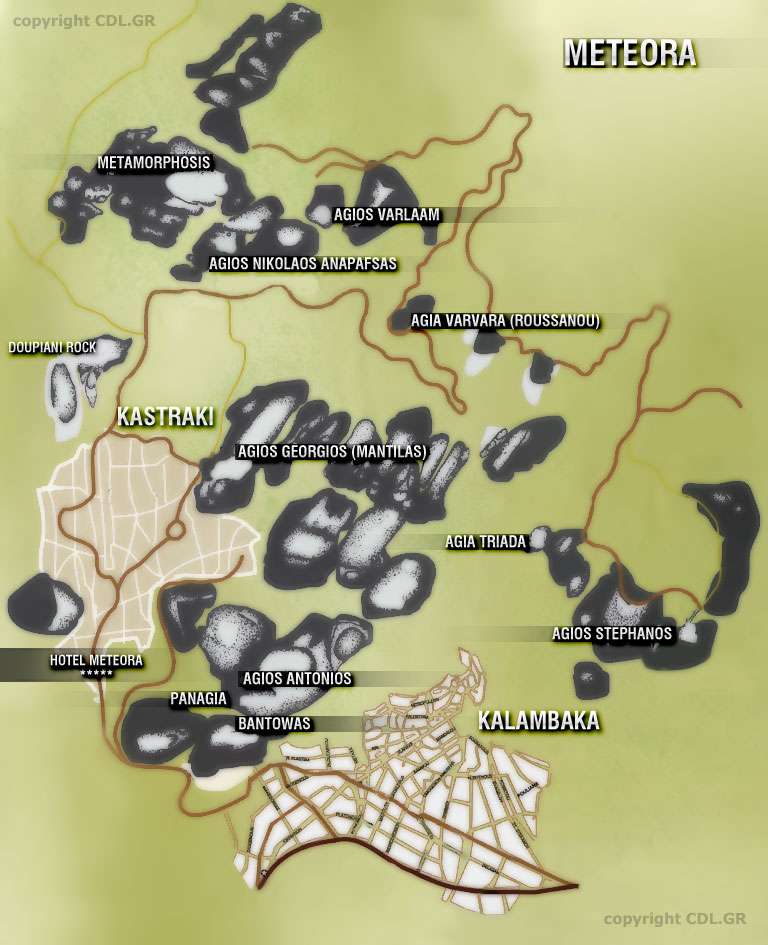 The Monastery of Saint Nikolaos Anapafsas
It is a three-storey Monastery in the outskirts of Kastraki. Built on a rock (85m in height) dates back to the 14th century.

The Roussanou Nunnery or Saint Barbara's
It is the smallest but the most impressive building. It was established in 1545 AD by 2 monks from Epirus, Nikodimos and Venediktos.

The Monastery of the Transfiguration of our Saviour or Megalo Meteoro
It is a massive Monastery on top of the highest rock called "Platys Lithos"  or Megalo Meteoro. Bustling with visitors the Monastery dates back to the 13th or 14th century. Visitors can see treasures of heirlooms of the Orthodox Church at the Monastery museum.
The Holy Trinity Monastery (Agia Triada)
The Monastery is built on top of the most beautiful and most difficult to reach rock. According to legend it was built in 1438 AD. The Monastery has been plundered and robbed of its invaluable heirlooms time after time, during the German Occupation(1941-1944) and also more recently. Illicit trade of antiquities has been a plague for years.

The Nunnery of Saint Stephen (Agios Stefanos)
The nunnery is built on top of the southernmost rock just above Kalambaka. It dates back to 1192 AD and it thrived during the 14th century. There is a museum with important religious heirlooms on display.